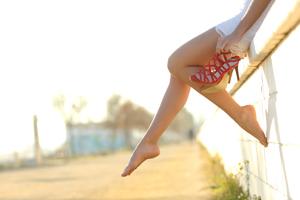 Finding out that you have varicose veins can be scary, especially if you're finding out for the first time or going through the vein screening by yourself. We tend to deal with scary situations better when we know what to expect. This post will outline how to treat varicose veins and one of the most common ways to determine whether or not you have varicose veins. This procedure is called duplex scanning.
First your physician will ask you questions about your general health, medical history and most importantly, your symptoms. Your physician will also conduct a physical exam, where they'll examine the texture and color of your veins. He or she may apply a tourniquet or direct hand pressure to observe how your veins fill with blood. And to confirm a diagnosis of varicose veins, your physician may order a duplex ultrasound test.
This 20-minute (for each leg) test uses painless, high-frequency waves. You won't be able to hear them because they are higher than something human hearing could detect. But they measure the speed of blood flow and also let the physician take a closer look at the structure of your leg's veins. Besides showing varicose veins, duplex ultrasounds may help your physician determine whether your varicose veins could be related to some other condition rather than the veins themselves.
Here are the different types of ultrasound tests
Carotid Duplex (carotid artery ultrasound scan) to detect stenosis or the narrowing of the carotid arteries, which supply the head and neck with blood.
Abdominal Duplex (aorta ultrasound scan) to detect abnormalities in the aorta, the body's main artery
Ankle Brachial Index (test of blood flow in the legs) to detect reduced blood flow to muscles and tissues in the leg